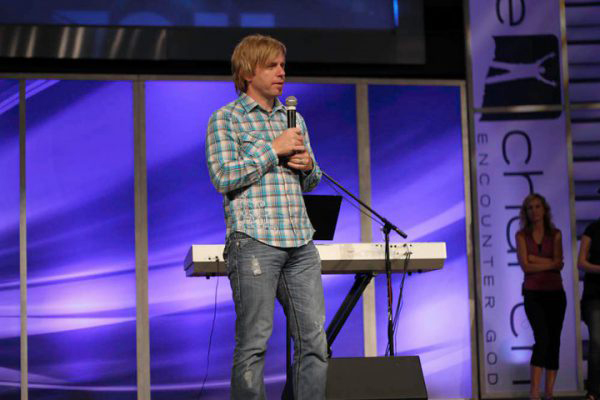 Empowered To Preach The Gospel
On the day you were born again, you became anointed, empowered, authorized, and chosen! You are empowered and authorized by Jesus Christ, the Savior of the world, to preach the Good News! Everything you need to fulfill God's will for your life is on the inside of you right now.
This very day God has been speaking to you about your dreams and desires. Don't give up! You can do it! When you realize who you are and what you can do in line with God's Word, you are on the first step of your destiny. Your destiny was planned by God before you were ever born. He says so in Psalm 139.
Psalm 139:1-16 (New Living Translation)
O Lord, you have examined my heart and know everything about me.
You know when I sit down or stand up. YOU KNOW MY THOUGHTS EVEN WHEN I'M FAR AWAY.
You see me when I travel and when I rest at home. You know everything I do.
YOU KNOW WHAT I AM GOING TO SAY EVEN BEFORE I SAY IT, LORD.
You go before me and follow me. You place your hand of blessing on my head.
Such knowledge is too wonderful for me, too great for me to understand!
I can never escape from your Spirit! I can never get away from your presence!
If I go up to heaven, you are there; if I go down to the grave, you are there.
If I ride the wings of the morning, if I dwell by the farthest oceans,
Even there your hand will guide me, and your strength will support me.
I could ask the darkness to hide me and the light around me to become night.
But even in darkness I cannot hide from you. To you the night shines as bright as day. Darkness and light are the same to you.
You made all the delicate, inner parts of my body and KNIT ME TOGETHER IN MY MOTHER'S WOMB.
Thank you for making me so wonderfully complex! Your workmanship is marvelous—how well I know it.
You watched me as I was being formed in utter seclusion, as I was woven together in the dark of the womb.
YOU SAW ME BEFORE I WAS BORN. Every day of my life was recorded in your book. Every moment was laid out before a single day had passed.
You are on the right path today! God knows you! He knows everything about you. That's why He would never tell you to do something you weren't EMPOWERED and AUTHORIZED and chosen to do!
Let's look at Psalm 138:8 in the New Living Translation: "The Lord will work out his plans for my life. . . ." We are God's masterpiece. He has created us new in Christ Jesus so that we can do the good things He planned for us long ago. He made us brand new in Christ! "Christ" means (we have learned from Brother Copeland) The Anointed One and the "anointing" is the burden-removing, yoke-destroying power of God.
So we can say aloud: God created me new in The Anointed One and through His anointing—that burden-removing, yoke-destroying power of God—I can do the good things He has planned for me. God has made every provision I need to do what He has EMPOWERED AND AUTHORIZED me to do! I can do it!
Mark 16:15 is known as The Great Commission. In the New Living Translation, Jesus says, ". . . Go into all the world and preach the Good News to everyone everywhere." We are instructed by Jesus to witness to everyone everywhere.
God says, "Go preach!"
You may say, "Where?"
God says, "Everywhere!"
You may say, "Who do I preach to?"
God says, "Everyone!"
But when we are standing face-to-face with our neighbor, mailman, pizza guy, convenience store clerk, or fast food clerk, we look at the natural circumstances and think, "What if he/she rejects me?"
When we begin to doubt, we are saying, "Hello, Mr. Doubt, come right on in here and hand us that bag of lies." We just opened up the door to Mr. Doubt and Mrs. Unbelief. This Mr. and Mrs. team has robbed the Church for years. God says, "Go" Devil says, "They might reject you and think your crazy." God says, "Go" Devil says, "You haven't memorized enough scripture." God says, "Go" Devil says, "They look like a Christian." Jesus said go to EVERYONE EVERYWHERE!
The Church has been lied to. Now let me ask you; who is the father of lies? John 8:44 says, ". . . for he [the devil] is a liar, and father of it." We just learned from Mark chapter 9 that if there are no ifs, anything can happen. Mark 9:23 in the King James Version says, ". . . If thou canst believe, all things are possible to him that believeth." We cannot let Satan keep us from sharing our faith!
You can be an effective witness for Jesus! You can shake your city with the Gospel! You can shake your nation for Jesus! You can change the world! God is looking for men and women to take their place in the Body of Christ. I believe you are the very one God will use for this end-time harvest of souls.