Archive for January, 2013
As another year closes and a new year begins, it is so important to take a moment and reflect on the many blessings we have been given. Although believers in Jesus Christ may understand the "reason for the season" the holidays, for many, can be a painful reminder of all the obstacles life has thrown against us.
What a wonderful holiday season we've had for ministry!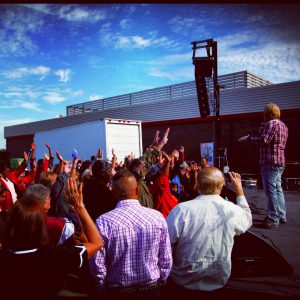 It began with our "Thanksgiving Reach," Kenneth Copeland Ministries' holiday outreach in Fort Worth, Texas, at the Joseph Storehouse. On the day of the event, dozens of workers arrived before sunup to set up an outdoor stage, a sound system and 2,000 chairs as well as bounce houses and other fun stations. As morning broke, thousands of locals lined up to receive a frozen turkey and a twenty-dollar voucher for groceries.
Before we distributed the food, we held a worship service. It was wonderful for me to see both of my daughters and many close friends onstage worshiping the Lord. Hundreds of the people who attended the event responded to the message that was shared, many coming forward for a healing prayer or to pray the prayer of salvation.
After the service we handed out the food as the kids played in the bounce houses and enjoyed face painting and clowns.
The testimonies of the day were astounding! One lady told me that her family would not have had a Thanksgiving meal if we hadn't provided it for her. By the end of the week, we had handed out 1500 turkeys, and 272 people had prayed to receive salvation. Read more…
Continue Reading | Comments Off on Reason for The Season