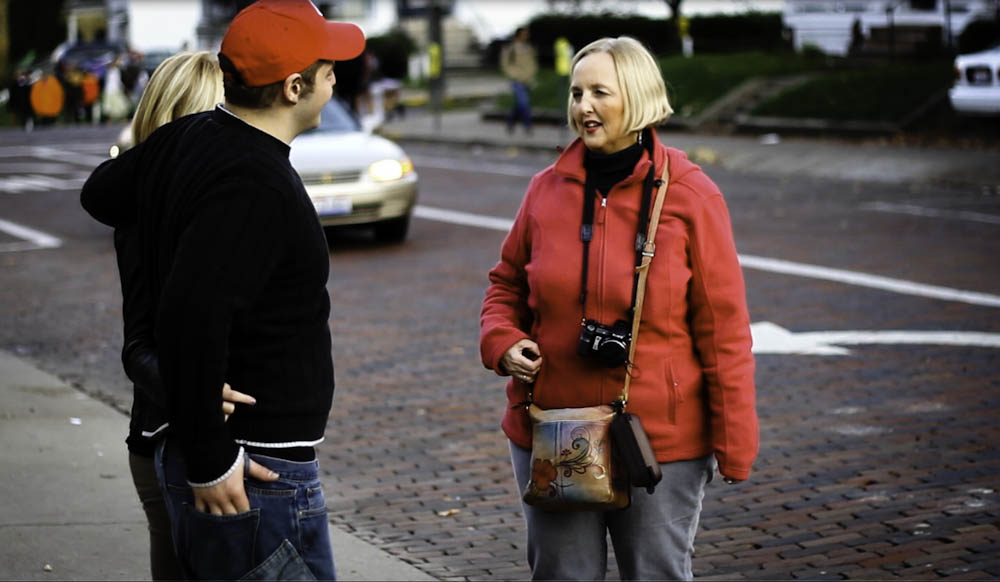 Evangelism Tips
The following tips will help you have a successful witnessing experience every time!
Set a Goal and Step Out in Faith
We have the assurance that every time we share our faith someone will get saved. The Bible says in Isaiah 55:11 His word will not return void. Setting a goal will help you to stay motivated. Setting a "number of souls" goal before you go out will help you to plan and will help you to avoid distractions that will come to try to get you off course. Jesus said in John 4 the people are ready! Learn from every experience. This will make you stronger and a better witness!
Overcome Fear-filled Thoughts
The Amplified Bible reads in Second Timothy 1:7 For God did not give us a spirit of timidity (of cowardice, of craven and cringing fawning fear), but (He has given us a spirit) of power and of love and of calm and well-balanced mind and discipline and self-control. Overcome fear-filled thoughts! One of the biggest fears in witnessing is the fear of failure. You cannot fail. God, Jesus, and The Holy Spirit are on the inside of you helping you to tell the good news! The greatest thing about this is it's not up to you it's up to them to get the person saved. You can start out by passing out tracts. Doing this will build your confidence and help you to succeed in soul-winning.
Talk to Everyone
God wants you to talk to everyone! He would never say, "Don't talk to that person." When you are out, listen to what is going on, on the inside. You made a decision to witness, the Lord will say "Go", He will show you a person and you are on your way.
However, as you "go" you may hear, "Don't talk to that person." "They look like Christians." "That guy could beat you up." Would that talk be from the Lord? No, I don't think so. Jesus said Go preach to Everyone everywhere!
Dealing with Rejection
When they reject you, they reject Jesus. When you witness and they yell at you, or snub you, the are not rejecting you they are rejecting Jesus. You have planted the seed into their heart Don't take it personally! They rejected you not because of what you did, it was a result of what is going on the inside of them. All God asks us to do is to be obedient! It's His job to save them! It's our job to Go!
Don't ASK the person to pray
Reach out your hand, and say pray with me. Don't ask the person. If the person doesn't want to, he'll say no. I never ask the person I am talking to if they are ready to pray. The lost person sees things merely from a human point of view and not of God. The Bible says in I Corinthians 2:14 – The natural man thinks the things of God are foolish. They have to be spiritually discerned. I am speaking directly to their spirit I reach out my hand and say, "Pray this prayer with me." They will tell me if they don't want to.
Compel Them!
Compel simply means to urge. Ask, ask, ask, the questions! Jesus said in Luke 14:23 – And the lord said unto the servant, Go out into the highways and hedges, and compel them to come in, that my house may be filled. If someone says "I'm in a hurry." You can say, "I'll walk with you." You can press but remember – Love is not rude!
The Word Speaks to a Person's Spirit
The Word is what speaks to the person's spirit man. The Bible says in Isaiah 55:11 – "His Word will not return void." Also in Jeremiah 1:12 – "He watches over His Word to perform it." If all they hear is Jesus we have a promise in the word one day they will be saved! I Peter 1:23 calls The Word of God incorruptible seed. This seed will produce a mighty harvest!
Dealing with Other Evangelistic Approaches
There are many people sharing the gospel. There are many different ways to share your faith. If someone does not agree with this approach walk in love! I have found the best approach is the one you will use on a daily basis! Do not argue with people who use other approaches. The Bible says every joint supplies and causes growth for the benefit of the body. ( Ephesians 4:16)
Don't Debate with People
The Lord showed me one time I was talking to a man from another religion. I was using the scriptures, asked him the questions. Doing all the right things I thought. People were walking all around us. I was getting nowhere with this man. The Lord told me what happened was like where your fishing and your lure get's caught on a log or something. You keep pulling, and pulling, moving the rod one way pull on it. Move the rod the other way and pull on it. He said the best thing you could do it cut the line and tie another lure on! He said you planted the seed and it will harvest! There were people all around you who were lost! Like there were fish all around that lure, but it was hung up!
The Survey Approach
Use the questions like a survey. You can use me as an excuse to do it say, hey this Guy wrote a book and told us to ask you these questions. Do you mind if I ask you a few questions? Make a list of the questions, put them on a clip board or whatever you need to feel comfortable and "Go."
Etiquette in Talking to Employees on the Job
Don't talk to them if they are busy with customers. Talking to someone who is busy with customers is not being a good witness and will often cause a scene and do the opposite. When people are working they are getting paid by their employer to do the job they are hired to do. When you are in a line and people are all around waiting on you, that is not a good time to share your faith. If no one is around that is a different story. God will show you!
Believe for Favor with People
The Bible says in Psalm 5:12 – "God's favor surrounds us." Jesus had so much favor everywhere he went. Luke 2:52 – And Jesus increased in wisdom and stature, and in favor with God and man. Pray every day for the Favor of God to go before you! Favor will bring people in your path to witness to.
Dealing with Civil Authorities
When you are out sharing your faith in a mall or at a grocery store someone could get offended. This has happened to me. They might tell a security guard or a police officer.
The Message Bible says in Matthew 10:18 – "Don't be upset when they haul you before the civil authorities." If your in a mall or somewhere where there is security or police you should obey what they tell you. They are expecting you to debate with them.
Remember, you are a witness wherever you are!
Smile & Be Friendly
The best thing you can do when handing out a tract or sharing your faith is to smile and be friendly. Act excited they are talking to you. Stay focused on what they are saying. Don't be looking around. Be a good listener! Their eternal destiny could be at stake!
Have a good time! Every area of my life has changed so much since I started sharing my faith. God wants to do the same in yours, I challenge you to take these principles, apply them and see thousands coming to know Jesus as their Lord! You can do it! Remember ALL THINGS are possible to those who believe!